Freelancing can sound like a big, scary thing, but what if I told you you could start making money from freelancing right now? What if someone told you how to start a website business with the skills you already have?
In this guest post, Kyle Prinsloo from Study Web Development shares a step-by-step blueprint for starting a website business and making your first $1,000 a month from freelancing, using skills you probably already have.
Real quick — if you're interested in learning about making money on the side while you learn to code (even if you have a full-time job) you don't want to miss my free training! It features my 4-step process for landing technical side gigs, no matter your skill-level.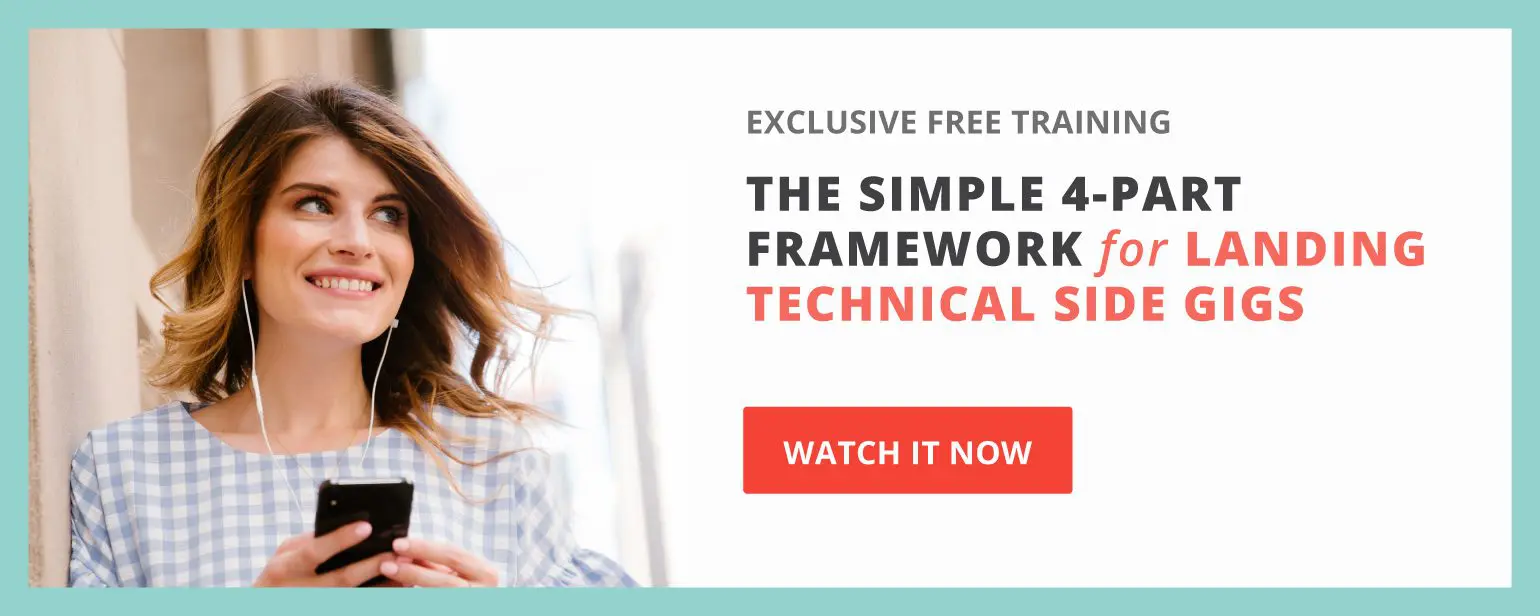 This is a really in-depth guide complete with email templates, so prepare to take notes!
Here's Kyle.
Disclosure: I'm a proud affiliate for some of the resources mentioned in this article. If you buy a product through my links on this page, I may get a small commission for referring you. Thanks!
Table of Contents
Most people I speak to would love to make an extra $1,000 per month on the side. Unfortunately, most of those people don't believe they have the time or skills to actually do this.
Those people are also wrong…in this case, at least. ;)
You can make an extra $1,000 on the side with basic tech skills and just a few hours a week. You just need to know how to start a website business.
In this article, I'll lay out a step-by-step plan you can follow to make money creating websites and build your own $1,000 freelance side hustle with the skills you already have.
If you'd like to find out more about how to scale up from there and earn a full-time income through freelancing, be sure to check out my freelancing bundle (you can get 25% off with coupon code: LTCWM).
The Plan
Most freelancers' websites focus on the freelancer, instead of focusing on how the freelancer can help the clients' businesses.
Have you seen those 'skills ratings' percentages on portfolio sites?
It's something like this:
Please don't ever do this.
It makes you look like a commodity and this doesn't mean anything to a business owner just wanting someone who can help their business grow.
I want you to think about this for a few minutes…
The problem behind an approach like this is a complete misunderstanding of what a portfolio site actually is.
Most people view portfolio sites as a way of getting a job or getting clients.
The problem is that getting clients and getting a job are treated as the 'same thing'.
If the goal is to get a job, then it's simple. All you need to do is buy a domain (ideally "yourname.com" or something similar) and have these pages:
About
Contact
Blog
The blog will just display articles you've written on a certain topic that showcases your expertise. Then either recruitment agents will find you via Google or recommendations from others, or you'll apply for jobs and point employers to your site.
That's all you need to do if you'd like to find a full-time job :)
I don't want to discuss this method in detail as I am not interested in teaching you how to get a job.
I want you to start freelancing, so we need a different way of thinking.
This is the kind of portfolio site you'll be building:
Here's a basic overview of the portfolio theme you just saw:
Goal: A secondary income/paying the rent, car and small bills
Financial potential: $500 – $1,500+ per month
Time/effort: 5 – 10+ hours per week
Services: Web design/online marketing
Think of the portfolio theme as a 'mini-niche agency website.'
It showcases your knowledge, expertise, and how you can grow your customer's business.
This = more clients = more income = grows your freelancing business.
With the theory out of the way, let's get into the actionable parts. Let's explore how to start a website business right now, with the skills you already have.
Head back to the table of contents »
Step 1: Determine Who Your Ideal Client Is
Find your target market and niche, then adjust your marketing efforts accordingly.
There's no right or wrong niche to focus on. Just go through your local Yellow Pages, magazines, or do some Google searches for ideas. You can also look around your local area for ideas as well.
Some client examples may include:
Coffee shops
Small local businesses in [your area]
Florists
Health shops
Bakeries
Beauty/hair salons
Fitness trainers
Pilates instructors
Printing businesses
Once you've decided on your niche and clients to target, you need to buy a domain related to the niche you choose and create a website like the portfolio theme shown earlier.

Head back to the table of contents »
Step 2: Write Blog Posts
To start with, you'll only need two or three articles. You can then add an additional article once a month to show that your business is still active
Here are three article ideas to get you started:
5 Ways to Grow Your [insert niche] Business Online
Why Every [insert niche] Needs a Website
What Almost Every [insert niche] Does Wrong
It's a good idea to write the first few articles yourself, as this will boost your confidence when it comes to selling your services. However, you can then outsource the writing to writers on Fiverr.com if you'd prefer.
If you're struggling for inspiration, do a Google search for the kind of article you'd like to write, and see what others have written. Then improve on that post by adding your own suggestions.

Head back to the table of contents »
Step 3: Get Client Testimonials
Anyone who's tried to make money building websites for others previously will know that clients always respond with something like this: "Can you show me work you've done previously for [insert niche]?"
This is a moment many new freelancers dread.
What do you do? If you're new to freelancing, you probably have nothing to show.
You know you can deliver a good website, but the client wants to see proof – which is fair, after all. So how do you get around this? What's the solution?
Well, I have two solutions that ALWAYS work in any niche, but you might not like them.
Solution 1: Do two projects for free in exchange for a testimonial.
Solution 2: Buy two domains and create the websites yourself (you just don't get testimonials this way).
Here are my step-by-step methods for each solution.
Solution 1: Do Two Free Projects
Step 1: Identify a business owner in your niche
To do this, just browse through local business directories online, the Yellow Pages, or local magazines.
Step 2: Send them an email like the one below, tailored to your situation:
Hi [name],
I recently came across your [niche] business and I noticed you don't have a website (or I noticed you have a website, but I believe it can be improved which will help you get more customers).
I am a web designer and I would love to create your website for FREE (no catches or hidden fees) in exchange for a testimonial from you that I can use on my website.
I'm looking to get a few testimonials as it will help me work with more clients in the future.
Would you be interested in taking me up on this offer?
If you have any questions, please feel free to contact me.
Regards,
Your Name
Your Contact Number
Step 3: Create a website for them
You can either do this quickly by purchasing a cheap template on Themeforest.net or TemplateMonster.com (often for under $15) or you can code it yourself – whichever you feel more comfortable with.
Even though you're working for free, do your best to create a finished product you're proud of, so you can show it off to future clients and impress the business owner who's giving you the testimonial.
Solution 2: Create Two Websites for Yourself
What's the purpose of a prospective client asking to see your work? Ultimately, all most clients want to know is if you can deliver quality work, and they want to see what you can do instead of just having you tell them about it.
If this is all they are concerned about, why can't you just buy the domain, create a website, and add it to your portfolio? This way, you also have a secondary website you could run as a hobby and even monetize if you choose.
It's a different story if the clients are asking for case studies on how you've helped businesses increase sales, but that's not an issue for this income strategy as you are dealing with the 'small fish' here.
If you take this route, you don't have to tell them you actually own the website either. Remember, all they want to see is previous experience. Owning the site is irrelevant and not a priority for them. All they want to see is if you can deliver quality work.
I've honestly never had any issues with this strategy whatsoever. It's a secret weapon that works every time!

Head back to the table of contents »
Step 4: Decide on Your Pricing Structure
Website pricing is vital to your success.
Overprice and you won't get any clients. Charge too little and you might get clients who question your credibility or you may be overworked with small profits.
Pricing is relative to the niche you're serving.
For example, if you create a website for a small local florist and one for a 100+ employee accounting practice, your pricing should be significantly higher for the accounting practice.
So, if you charge the florist $1,500 for a website, they might say that's too expensive for them.
Whereas if you charge the accounting practice $3,000, they might think that's too cheap and may question your expertise.
My suggested pricing model is affordable, and you will get a lot more clients with this pricing structure compared to more expensive alternatives. However, always tailor your estimates based on your target market and type of client.
Example Pricing
The following is an example recommendation, but feel free to adjust it to something you're more comfortable with.
My niche: Coffee shops
My services: Web design, SEO, and social media
One-Off Pricing:
$395 for a professional one-page website
$595 for a professional one-page website + SEO submissions + Google Map submission
For a more advanced understanding of how to charge for a website, read this article.
Monthly Pricing:
$350 – Social media management (posting on Facebook and Instagram twice per week)
$495 – Social media management + SEO
You might think my pricing is low, but remember, the goal is not to make a full-time income here. We're shooting for your first $1,000 – $1,500 per month from freelancing.
You're also more likely to get a few clients paying you a monthly fee which helps you earn a more predictable income each month.
Example Package
One-Page Website – For this price, they can't expect something crazy. It must be professional and to-the-point. If they want something more advanced, then they must pay you more.
In this case, the website needs to have the following:
Good images (source stock images from Pexels.com or DepositPhotos.com or tell the client to send you professional images)
Information about the coffee shop (history, what makes them different)
Their trading hours, location, and contact details
Any promotions/events
Their menu
Refer to Themeforest.net for some inspiration or to even buy a cheap one-pager (under $15) if you're struggling to get started.
SEO Submissions – We've all heard the acronym 'SEO', I'm sure. In short, search engine optimization is the process of ranking higher on Google (or other search networks).
All you need to do is submit/list the website to local directories which will help the initial stages of the website ranking higher on Google.
Directories vary based on your city and country, so a simple Google search "local business directory" should give you more than enough options. You can also try "[insert niche] directory listing."
Three popular directories are:
Yelp.com
YellowPages.com
FourSquare.com
Google Map Submission – We've all seen the Google Maps location results under Google searches, but have you ever wondered how businesses get listed on there?
It's a very simple process and I'm not going to explain that here as there are plenty of free resources online for this.
Here's a great step-by-step guide on how to do this. Here's another one.
Many people search for "coffee shops near me" (or the niche you choose) and they often just click on the map options.
By getting your client featured here, you might be able to drive lots of customers to them.
Social Media Management – All you will be doing is posting on Facebook and Instagram twice every week.
The posts can be informative, funny, or helpful. They can offer giveaways or special promotions. Or they can ask questions to interact with readers.
The bottom line is that the purpose is engagement. If potential customers can see engagement and a good-looking social feed, it helps them trust the business more and they are more likely to visit and recommend it to friends.
You can get images and content from the business owner, and look at what their competitors post to see how you can be different. When it comes to social media, it's best to be authentic and use generic stock images sparingly.
Be clever and plan the posts in advance. Don't start finding everything the day you need to post it. It's only eight to ten different posts a month, which is not difficult, but it requires some thought and planning for it to run smoothly.
You can also use a tool called Grum.co to help you schedule Instagram posts in advance. Facebook has this option for free.
SEO – Your goal is to get the business ranking on Google. I wouldn't do advanced things here because the budget is so small.
In this scenario, I would only do one 1,200-word article with some nice-looking images from Pexels.com or DepositPhotos.com.
If the articles are good, Google will eventually rank the articles higher and that will boost the site's long-term SEO results.
SEO is considered to be more of a long-term marketing tactic. You can usually start seeing results in about three months, depending on the industry.
The bottom line is that SEO should be seen as an investment. Just like a seed takes time to grow into a tree, SEO doesn't happen overnight. It's just about getting started.
You can write these yourself, or outsource to a trained writer on Fiverr or Upwork. Provide a target keyword or two to incorporate into the text in order to appear in search results.
Some article ideas:
The 10 Best [insert niche] in [insert suburb/area]
How to Choose the Right [insert tool/software/equipment used in niche]
5 Health Benefits of [niche]
If you aren't outsourcing, you should be able to write these articles in an hour or two. Focus on providing value to the readers so they stay on-page.
The Benefits of this Strategy
Once you've created a few websites, you'll have some different website themes that you can use for new clients.
Building a new site will just be a case of changing images, adding content, and uploading it to the host.
You can easily complete a whole website in three to four hours as long as you get the information you need from the client.
It's important to remember that you're not doing a 10+ page website here. It's one page. Even a simple three-pager won't take much longer – especially after your third client.
The faster you can build websites, the more income you'll be making per hour of work. It's a numbers game.
If you get just one client every two weeks (the small package) and only one client signing up for the monthly package, that already equals over $1,000 per month.
The hardest work is upfront: creating your site, building your portfolio, and marketing to find clients (which I'll cover in step 5).
Remember, this is a simple guide on how to earn $1,000 a month from freelancing. If you're interested in earning more, check out my freelancing bundle and use the coupon code: LTCWM for 25% off.

Head back to the table of contents »
Step 5: Find Your First Freelance Clients
Here are the three best ways to get clients for this marketing strategy:
AdWords
Facebook group
Outreach
1: AdWords
Briefly, AdWords provides the ads you see at the top of all Google searches. Every time someone clicks on the ad, the business pays for it.
The point of AdWords is to bring in more traffic and conversions, but you have to weigh the costs and benefits of using it frequently.
Let's say you sell a website for $395. Would you be willing to spend $50 to get a confirmed client with the potential of them signing up for a monthly marketing package?
Sure.
Would you be willing to spend $200 to get a client to buy a $395 website?
Probably not.
It's all about figuring out what you're willing to pay in comparison to what you'll earn.
Searches your ad should display for are (depending on your niche):
"Coffee shop website template"
"Coffee shop website theme"
"Web designer for small business"
"Web designer for coffee shop"
"Website design for coffee shop"
In this case, each click might cost $2 on average.
I understand that there will be many searching for these terms just for research purposes – maybe even other web designers trying to get inspiration or buy the themes themselves – but this is something that just needs to be accepted when it comes to a niche like this.
One way to combat this is to avoid your ads showing as a result for searches including the word "ideas" or "inspiration". Include these in the negative keywords so your ads show on more relevant searches.
Some searchers may be legitimate business owners intending to just figure it out themselves. If they come across your site and see that your pricing is so low, they may very well decide to save themselves the time and stress by hiring you instead.
Don't know how to create AdWords ads? Take this excellent course on Udemy.
2: A Facebook Group
So many people overlook this strategy. Create a Facebook group relating to your niche and focus on posting content that will appeal to your niche that you're targeting.
In this case, I would want coffee shop owners in 'XYZ' city to join my Facebook group, so I'd name it to reflect that.
Then I would consistently add value to the group. I would post awesome articles on how coffee shops can grow their business, psychology tips, productivity tips, funny memes, etc.
The next step would be to post occasionally to the group about how you can help them grow their business, or even message the members directly.
You don't need 1,000 members to be successful here. 50 members is excellent. Remember, your target industry might be super niche and these are the exact clients you'd like to work with.
It usually takes up to three months to get your first freelance client from these groups.
Focus on converting 10% into paying clients and then growing the group from there.
More targeted members = more clients in the long run.
3: The Manual Work
There's no shortcut here. This method requires researching companies and finding out if they fit your ideal client niche.
To research the companies, you need to do the following:
Look at Yellow Pages
Look at local online business directories
Look at local print media (newspapers, pamphlets, flyers)
Look on Google for coffee shops
In each of these examples, you need to find out the following:
Do they have a website? If not, carry on with the next step.
Do they show up on Google for their coffee shop?
If the answer is no to both questions, that's good news for you.
Freelance Starter Guide
Sign-up to get my ultimate guide for getting started as a freelancer.
Head back to the table of contents »
Step 6: Sell Your Services
Before I go any further, you need to be aware that you can't be thin-skinned or sensitive when it comes to this step.
If you want to get paid to do web design work from home, you must mentally prepare for 90% or more of your outreach being completely ignored, or you might receive a straight "NOT interested" reply.
This doesn't mean you shouldn't still go ahead with it, but I don't want to paint a fairy-tale picture here because it doesn't work out like that.
Many of you will face a mental barrier because I said the word "sell." I also faced this barrier, but then I came to this realization:
You are providing the coffee shop (or business niche you decide on) with an effective marketing tool that will help them appear more professional and lead to more customers.
You're HELPING their business grow and they are just paying you to do so.
It's an exchange of value for value.
Once you understand that it's in their best interests to partner with you, everything will fall into perspective and you will feel way more confident "selling."
The next step is to send the business this email:
Subject Line: [Business Niche Company Name] Website
Hi [name or company name],
My name is [insert name] and I am a web designer based in [insert city].
I came across your [insert niche] business in the [insert media] and noticed you don't have a website yet.
I have experience in working with [insert niche] businesses to help them create effective websites for only $395 (with no hidden fees).
Would you be interested in discussing this further?
We can set up a call or I'd be happy to discuss this via email.
For more information about my expertise, here is my website: [www.mynichewebsite.com]
Thank you and I look forward hearing from you.
Regards,
[your name]
If you don't receive a reply after three days, send them this email:
Subject Line: RE: [Business Niche Company Name] Website
Hi [name or company name],
I'd just like to confirm if you received my email I sent a few days ago?
Regards,
[your name]
If you don't get a reply two days after your follow-up, phone them.
Sometimes prospective clients genuinely consider your proposal but they are too busy and forget to reply.
The follow up often receives more responses than the first email because business owners often see the initial pitch as a spam email due to all the sales emails they receive.
Businesses receive emails from companies wanting to design their website and do SEO services almost daily, so to them, you are much like the rest.
What to Do if the Business Already Has a Website
After you've got a few projects to your name, you should approach coffee shops that have existing websites that are poorly designed.
Just some [insert niche] Google searches will pick up all you need to start.
Once you feel more confident about easily pointing out the errors and giving some valid recommendations, email them this message:
Hi [name or company name],
My name is [insert name], I recently came across your website after searching for [the search term you used].
I noticed that your website doesn't display the important aspects that a [insert niche] website should display, such as:
Clear contact details
Clear company history
Professional images and content
Social media profiles
Clear location and trading hours' information
Menu and specials
Making these changes will help your [insert niche] appear to be more professional and you will gain more trust with potential customers.
I'd love to set up a call to discuss how I can help you get more customers through effective web design.
If you have any questions, feel free to contact me.
For more information about my expertise, here is my website: [www.mynichewebsite.com]
Thank you and I look forward to hearing from you.
Regards,
[your name]
Now You're Ready to Make Money Creating Websites
Now you know to start a website business; the rest depends on you. Apply what you've read, see what works and what doesn't, and adjust as you go. You'll be able to make money designing websites in no time!
This is quite a long article, so to help you commit to applying everything I've shared, I'd love for you to take part in the #1kfreelancingchallenge on Twitter.
Use this hashtag to share your progress and struggles as you start to build websites for money.
Tweet to let Laurence and me know if you're up for the $1k challenge!
What you've just read is a basic guide on how to start a website business and earn $1,000 through freelancing. If you'd like to learn more advanced strategies like:
Freelancing fundamentals
Becoming an expert in your niche
Creating income streams
Getting started with blogging
Conversion rate optimization
Creating websites that work
Writing proposals that close
Handling client objections
How to price your services
How to sell your services
How to get more clients
How to get paid more
Outsourcing basics
Social media
AdWords
SEO
Then check out my popular freelancing bundle to help you quit your job or earn a side income doing what you love.
As a reader of LTCWM, you can get 25% off the current sale price with coupon code: LTCWM.
About the Author
Kyle Prinsloo helps web designers and developers launch and grow their freelancing businesses through his blog Study Web Development.