Buying tech gifts for a programmer, computer engineer, or other sub-category of "computer geek," can feel overwhelming. When you're not in the industry yourself, how do you know which coding gifts to buy? 🤔
There are so many options under the umbrella of awesome computer science gifts! But that only makes it harder to narrow it down and pick the right programmer gifts for tech lovers in your life!)
That's why I created this roundup of top coding gifts to make it a little easier to find the best gifts for coders of all ages, specialties, preferences, etc.
No matter who you're buying for, this coding gifts guide has you covered.
You'll find cool gift ideas for programmers, ergonomic gifts for software developers who sit at their desks all day, gifts for computer science majors, gifts for coders who are still learning or job-hunting, gadget gifts for techies and smart home enthusiasts, gifts for gamers, coding gifts for kids, teens, and tweens, and fun nerdy stocking stuffers or Secret Santa tech gifts for coworkers.
This is the ultimate list of the best gifts for programmers! 🎁​​🎁​​🎁
Whether you're shopping for programmer birthday gifts, Christmas gifts, or "just because" gifts for a programmer you love, these coding gifts are a perfect mix of useful and fun.
Use the table of contents to jump around and find the best tech gifts for your friends and loved ones!
Alternatively, click here to see the gifts organized by price.
Please note that pricing listed below may change in the future!
📌 Psst! Looking for last-minute gift ideas?
Most of these technology gifts are available with next-day delivery via Amazon Prime or come with digital delivery. Phew!
Disclosure: I'm a proud affiliate for some of the resources mentioned in this article — including Amazon products. If you buy a product through my links on this page, I may get a small commission for referring you. Thanks!
👋 Why Trust Me for This Coding Gifts Guide?
I'm sure this is far from the only coding gifts guide out there on the internet. And personally, when I'm shopping and researching options, I like to know why I should trust one article over another.
So I thought I'd share a few fun facts about my background so you understand more about why I've curated this gifts-for-coders guide!
I am completely self-taught, so I know what gifts for coders are useful while they're still on their learning journey.
While teaching myself tech skills, I uncovered a passion for teaching others and now run Learn to Code With Me full time. Knowing what sorts of things can help people become better programmers is kind of my life!
Acquiring digital skills has allowed me to be flexible and has unlocked doors for better opportunities pursuing the things I love.
I worked full-time on the product team at an EdTech startup, where I worked with tons of people in different tech specialties.
I am a multi-passionate person. I love to write, travel, and more. I like to think I'm a good liaison between the tech and non-tech worlds!
Because I work from home on the computer, I know all about the journey of setting up a good workspace! Check out my home office tour and furniture recommendations.
While putting together this list, I've thought about coding gifts I'd like (or already own), gifts my techy coworkers and connections would love, gifts that would be meaningful to my readers, etc.
So if it's your first time on this site, great to "meet" you! Now let's jump into the reason you're here: coding gifts!
☝️ Back to top
⚒️ Practical Coding Gifts for Programmers
For a giftee who spends their days immersed in the world of tech, these gifts for programmers will make their lives easier, healthier, and more enjoyable!
From ergonomic gifts to amp up their workday comfort to helpful coding accessories, the gifts for computer programmers in this section are focused on utility.
You can also use these ideas as gifts for computer science students, gifts for software engineers, or gifts for IT professionals in general.
Kinesis Advantage2 Ergonomic Keyboard
This ergonomic keyboard is a perfect gift for programmers who spend all day in front of their computers. Typing for so long can be physically straining!
With this contoured keyboard, programmers' wrists, hands, and fingers sit in a more relaxed position, which makes working at a computer all day so much more comfortable. Users can even customize the keyboard by changing which keys do what function, increasing their efficiency. The keyboard is designed to work on all major operating systems (Windows 7-10, Mac OS X, Linux, and Chrome).
See more of my suggestions for programmer keyboards and the best ergonomic keyboards.
Das Keyboard 4 Professional with Cherry MX Brown Switches
For techies who prefer a more traditional keyboard, this tech gift certainly fits the bill. They'll get a new kind of keyboard experience without needing to entirely re-learn how to type!
With its enjoyable "clicky" tactile experience, the mechanical key switches improve accuracy by instantly recording keystrokes with no delay, helping programmers "feel" their code.
Gimars Enlarge Superfine Fibre Soft Gel Memory Foam Set Ergonomic Mouse Pad
Just like a good keyboard, a good mouse pad can help prevent problems like carpal tunnel and joint pain, making this a great cheap tech gift idea. The memory foam provides comfort and support, reducing the stress on the wrist, elbow, and shoulder.
Gaiam Classic Balance Ball Chair
There's plenty of research on how being sedentary for too many hours can poorly impact our health. This half-balance-ball, half-chair offers a compromise, allowing users to stay more active via "micro-movements" while sitting. The extra physical activity can also help keep the mind engaged and improve productivity.
Furmax Electric Height Adjustable Standing Desk
Another way to combat the perils of a sedentary lifestyle is to mix it up with standing! If your giftee works from home, this sit-stand desk with adjustable height is the perfect solution.
You can adjust the height between 28.7"-48.1" using simple electric up and down controls. Experiment to find your sweet spot, then save it and the desk will remember your settings!
Ergotron WorkFit-Z Mini Sit-Stand Desk
Another alternative is this tiered desk riser, which lets you convert any surface into a standing desk (and back again). It's height-adjustable and can fit a keyboard, mouse, smartphone and two monitors, making it a great gift for a software developer or any desk-bound tech specialist.
The beauty of this option is that it lets programmers place their monitor at eye level and their keyboard at hand level, which is a more comfortable and natural way to work.
Cyxus Blue Light Filter Computer Glasses
Help the programmers in your life prevent eye fatigue, blurred vision, and headaches with these blue-light-blocking computer glasses. The clear lens blocks ultraviolet radiation and protects the eyes.
These are great programmer gifts to keep them safe and healthy during long days of coding.
Mobile UI/UX Design Notebook
App designers and developers want to provide a great user experience, and that starts with wireframes, mockups, and prototypes. If you're looking for cheap gifts for computer geeks, this notebook makes it easy to sketch ideas and brainstorm successful user flows.
Start coding now
Stop waiting and start learning! Get my 10 tips on teaching yourself how to code.
VIZ-PRO Magnetic Dry Erase Board
This large whiteboard makes a great gift for coders who want to get away from the screen to brainstorm and sketch diagrams and code by hand.
Computer Monitor Message Board
Tech professionals are well-known for having dozens of sticky notes on their computers and desks at any given time, so organizational tools can make great Christmas gifts for programmers.
This simple memo pad sticks to the side of their screen so they can organize their notes at eye level. Plus, they're cheap enough to make perfect nerdy stocking stuffers! 🎅
Quartet Glass Whiteboard Desktop Computer Pad with Storage Drawer
One more level up from sticky notes are these whiteboard-meets-drawer coding gifts, designed to maximize the efficiency of a programmer's work area. They're perfect for figuring out code without needing to step away from the desk, and keeping important info front-and-center.
Pluralsight Course
Tech moves at lightning speed, so think about giving computer science gifts that help your giftee future-proof their skills. Pluralsight offers skill assessments, interactive courses, and hands-on projects in areas like web development, IT ops, and cybersecurity.
The best part is, you don't have to choose what course to buy: your tech education gift will give them access to the entire course library so they can pick for themselves!
💰 $29 for one month, $87 for three months, $299 for a year, or $449 for a year at the premium level
🛒 Buy it on Pluralsight (see options)
HP Pavilion 21.5-Inch IPS LED HDMI VGA Monitor
Extra monitors make fantastic gifts for programmers starting a new job, because studies show that working with dual monitors increases productivity by 20-50%. You'll save them the trouble of toggling back and forth as they work on code, look up solutions, communicate on the work chat tool, and so on.
Fitlink FPS & MOBA Gaming Keycaps
Type on a keyboard long enough and eventually it'll start showing signs of wear. These keycaps are resistant to wear and corrosion, have a smooth and glossy texture that makes typing a pleasure, and look sleek and futuristic, making them super cool gifts for coders.
Ember Temperature Control Smart Mug
Java isn't just an important programming language for many developers, it's an important beverage! This smart mug can show your drink temperature and volume and track your daily liquid consumption. Comes in black or white.
Perfect for the software engineer in your life that needs coffee to function, especially because they won't have to get up to microwave coffee that's gone cold! ☕
Google Nest Wifi Router
Does a coder in your life work from home? For anyone whose house has annoying wifi "dead zones," Nest Wifi plugs into modems to provide up to 2200 square feet of strong, reliable internet.
These make great gifts for hackers who love to grab their laptop and code from anywhere in the house.
Bose Noise Canceling 700 Headphones
Noise-canceling headphones are some of the best gifts for programmers who need peace and quiet to get work done.
These are some of the top noise-canceling headphones on the market, with 11 levels that let you decide whether to block all sound or allow ambient sounds. You'll get up to 20 hours of battery life per charge and easy access to voice assistants like Alexa and Google Assistant.
Apple AirPods
Earphones are better gifts for developers who are often on the go, since they're portable and convenient. These popular wireless noise-canceling earphones sync with Apple devices to provide up to 6 hours of listening time per charge, and come with a convenient charging case.
Tech rubber duck
Nope, this isn't a joke gift—a rubber duck is actually one of the most fun and unique gift ideas for programmers out there!
"Rubber duck debugging" is a quirky method of debugging code. The idea is that by explaining a problem to someone (or someduck), you'll understand it better and quickly find a fix.
If you're looking for nerdy desk accessories, this duckie makes a great desk decoration and debugging assistant!
Compressed air duster for keyboard
This alternative to canned compressed air can be recharged and used repeatedly to clean a coder's keyboard. Let's say you're looking for gifts for a programmer boyfriend whose computer tends to get a little dusty—this makes cleaning it more fun!
Headphone stand
A stand for headphones is a programmer gift that will keep their desk clutter-free and organized. If your programmer is always hunting for their headphones, these nerdy desk accessories make sure they're always at the ready.
Keyboard cover
Keyboard cover that blocks dust and liquid spills. It's just like a waterproof shower cap and keeps contaminants away from keyboards. The best part? It doesn't interfere with the keyboard itself. Premium material with 0.025mm keeps the same tactile feeling and excellent typing feedback.
Digital wall display
This fully customizable smart display for your home, office, or meeting room allows you to display photos, calendar(s), news, weather, and so much more. A great software developer gift for improving productivity, maintaining to-do lists, etc.
Programmable foot pedal
A foot pedal that controls your keyboard? Yep! This foot pedal can be programmed with tons of shortcuts to make your giftee's life more efficient. For instance, they can step on pedals to save their work, pause or play music, control games, enter text strings, or just about anything else that a keyboard or mouse can do!
Charging station
Designed for Apple products, this wireless charging station allows you to charge your iPhone, Apple Watch, and Airpods simultaneously with just one cable. Can help the coder in your life keep their desk streamlined and clutter-free.
Python code notepads
These 50-sheet notepad/stationery sets work as a real-life Jupyter Notebook (which is a platform used to write Python code). The code sets up the numbered lines for your 'to do' list, and then congratulates you if you manage to tick everything off the list.
One review says "my coding boyfriend says he's the king at his office now!" If you're looking for gifts for a nerdy husband or wife, Python coders will be happy!
Cable Management Box by DMoose
Walk into a programmer's workspace and there's a good chance you'll be tripping over a hundred cords. This box keeps cables organized and dust-free! It's one of those gifts for software engineers that you might appreciate as much as they do.
Bryson Screen Cleaner
A safe, effective spray that cleans dust and fingerprints off screens without leaving streaks. If your loved one is into uber-practical gifts for developers, computer cleaning supplies are definitely something they always need. Pair it with similar items to create a little workstation gift basket.
Progo Ultra Absorbent Microfiber Cleaning Cloths
These would make a great addition to that cleaning gift basket! Can be paired with a spray or used dry on equipment that liquid shouldn't touch. The microfiber cloths grab dirt, grease, and dust.
Creative Market gift card
Creative Market is a great place to get ready-to-use design assets, which programmers use for their creative/development projects, e.g. fonts, graphics, icons, and mockups.
These gift cards make awesome gifts for programmers who like to build their own projects, like websites or apps, because they can go exploring to find the perfect elements for their projects.
💰 $20, $50, or $100
Use the above link to log in or create an account
Then buy a gift card here (must be logged in to buy)
[Book] The Inevitable: Understanding The 12 Technological Forces That Will Shape Our Future
Hunting for gifts for computer science majors? This book explains and examines 12 technological imperatives that will shape the coming decades. It's perfect for someone who wants to amp up their knowledge and pick a successful tech specialty that will remain exciting and relevant for years to come.
[Book] AI Superpowers: China, Silicon Valley, And The New World Order
For programmers who enjoy an international perspective on technology, this book offers a look into China's astonishingly rapid developments in the artificial intelligence space recently.
☝️ Back to top
👨🏽‍🎓 Gifts for Aspiring Techies Learning to Code
Support your friends/loved ones on their learn-to-code journeys with these awesome education-oriented coding gifts.
CanaKit Raspberry Pi 4 4GB Starter Kit
This isn't a raspberry pie you can eat; it's better! The device is actually a tiny computer that plugs into a monitor or TV and allows people to learn programming and explore other tech topics.
The Raspberry Pi is definitely one of the coolest computer coding gifts for adults or kids that's out there, and the starter kit below includes everything your giftee needs to get running with it.
Programming JavaScript Flashcards Game
Computer science gifts that gamify coding help make learning fun!
This is a game and flash card study tool combo. It can be used to help giftees learn JavaScript functions (JavaScript is one of the most popular programming languages) while having fun with friends (or by themselves as a solo game).
A super high-quality deck with beautiful artwork. Practical and fun.
Git cheat sheet coaster
Super helpful for quick reference, these coasters serve a dual purpose. Perfect for people learning to code, as they won't have to memorize important Git commands (Git is something over 90% of developers use, by the way).
Smart reusable notebook
This 36-page dotted grid notebook is ideal for people learning to code, since they can take notes, jot down important info as they're learning, work out coding problems, etc.
Your giftee's handwritten notes can be moved to popular cloud services to be saved forever. Even better, it can be used endlessly by wiping it clean with a damp cloth. 💪
Udemy Course
Udemy offers 100,000 online courses on a variety of topics—on everything from programming to knitting. Among all their offerings, these three are some of the best gifts for coders looking to improve their skills or even launch a new career:
See this guide for more of my top web dev picks
💰 Various, usually anywhere from $10-$300, but they often have sales.
🛒 Browse courses on Udemy and click "Gift this course" on the chosen course sales page — or, read my full review here.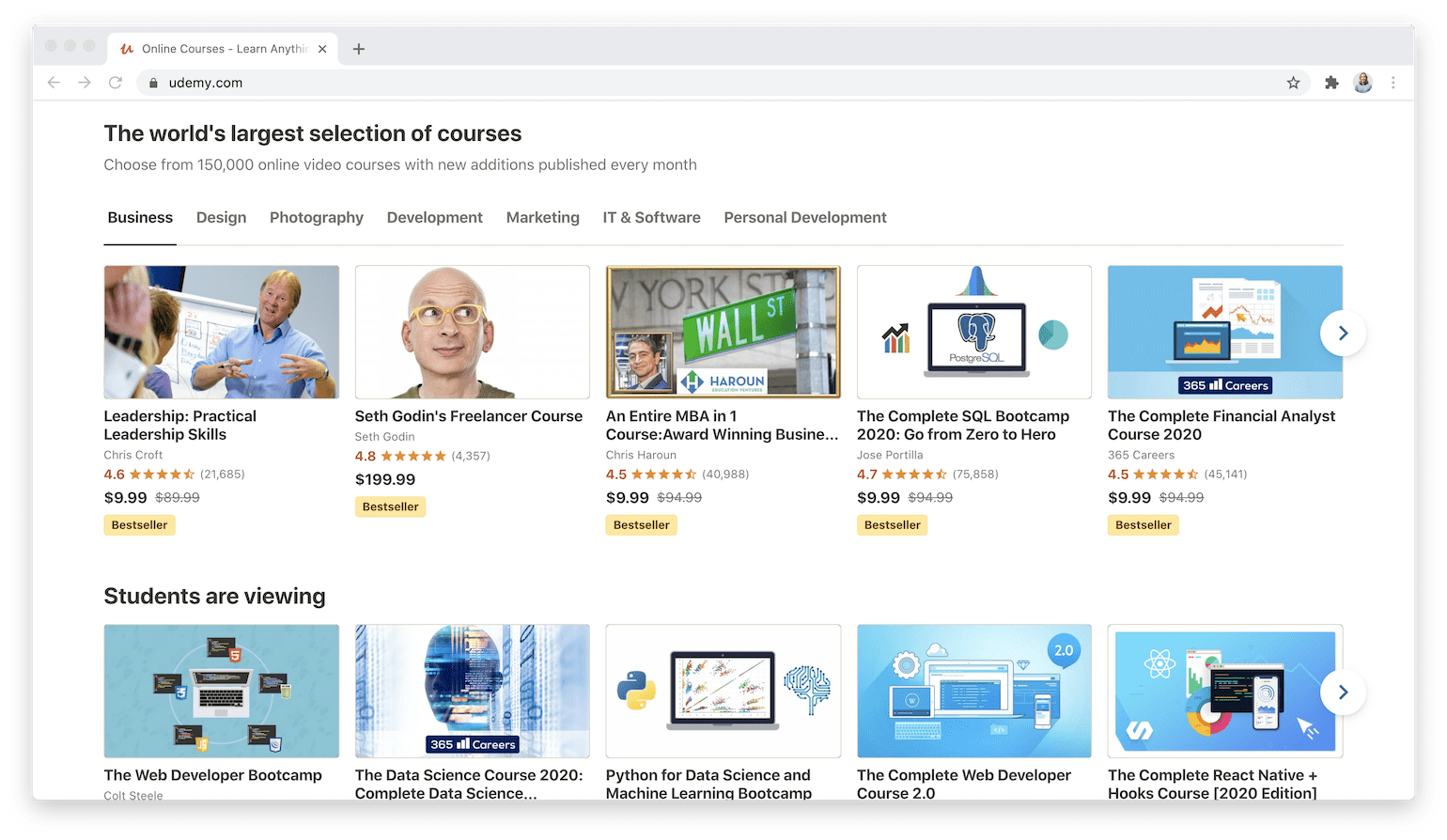 Skillshare Course
This is another amazing option for a "choose your own adventure" course gift for programmers. A subscription gift to Skillshare offers unlimited access to more than 24,000 online classes, including:
Course topics go beyond technology to business, design, entrepreneurship, writing, and more, so these courses are especially good gifts for a programmer who might want to start their own business one day.
💰 3 months for $36, 6 months for $60, or 1 year for $96
🛒 Buy on Skillshare (options here) — or, read my full review here.
GoSkills Unlimited
Courses on GoSkills teach various career skills like Excel, PowerPoint, Photoshop, Illustrator, project management, finance, marketing, leadership training, and more. They have a few programming courses too, but the focus here is more on those resume-boosting skills.
GoSkills subscriptions make great gifts for computer programmers who are looking for a career boost.
💰 $29 for a month of GoSkills Unlimited, $99 for 6 months of access, or $199 for a year of access
🛒 First, sign up here. Then, see options on their Gifts page.
One Month Course
The first month of learning to code is usually the hardest, which is why One Month courses are designed to guide total beginners through that time. Whether they'd like to learn HTML, JavaScript, Python, Ruby, or a basic programming overview, a One Month course can get them started in a way they'll want to stick with.
One new course starts every month and runs for 30 days, but students retain access to content for 6 months.
💰 $49 for one course or $299 for unlimited access to all courses for a year!
🛒 Click here for a 10% discount, then go to their Gifts page.
Mammoth Interactive Unlimited Membership (Annual Subscription)
The Mammoth Unlimited Membership is an all-access pass to the Mammoth Interactive school library. That means you get 1,700 hours of content, including expert-led courses and masterclasses that teach a step-by-step, holistic curriculum.
With a huge curriculum of courses including Python, machine learning, AWS, front-end development, entrepreneurial skills, and more, these course gifts for coders will teach your giftee transferable skills to use at their current job or equip them for a new one.
💰 $199/year
🛒 Buy it on Mammoth Interactive
Start coding now
Stop waiting and start learning! Get my 10 tips on teaching yourself how to code.
[Book] The Pragmatic Programmer: From Journeyman To Master
Books make great gifts for tech lovers who also share a love of reading!
It's helpful for programmers to understand software development outside the confines of a singular language or framework. This book breaks down important concepts and contains practical advice to help programmers understand what it's all about.
[Book] Absolute Beginner's Guide to C
C is a popular programming language that's used to develop software like operating systems and databases.
This bestselling guide talks to beginners at their level. Readers will learn how to get started with C and get helpful reference cards and charts to keep on hand as they dive in.
[Book] Java: A Beginner's Guide
This book provides the reader with a foundation of knowledge about Java (not to be confused with JavaScript). Learn core keywords, constructs, and syntax, and how to create and run Java programs.
[Book] Code Complete: A Practical Handbook of Software Construction
This book is full of best practices that will help programmers write better software. Whatever their experience level, readers can use this clear, pragmatic advice to get better at everything from debugging to collaborative development.
[Book] Ruby: Programming, Master's Handbook: A True Beginner's Guide
For beginners interested in Ruby (a less common but powerful language that was used to build the likes of Twitter and Airbnb), this book explains the essentials of data structures and functions, common mistakes to avoid, and shortcuts to get them coding quickly.
[Book] The Joy of PHP: A Beginner's Guide to Programming Interactive Web Applications with PHP And mySQL
This book is designed to take readers from "never written a line of code before" to "programming interactive web apps" using PHP (a language used to build websites). There are hands-on exercises in each lesson to help reinforce concepts along the way.
[Book] A Smarter Way to Learn Javascript
JavaScript is a widely used language that's a great choice for beginners to learn. This book was written for readers new to JavaScript (and programming in general). It pairs with interactive website exercises to be completed after each chapter, in order to improve comprehension and retention.
Want more programming books for tech gift ideas? Check out this list.
☝️ Back to top
👔 Programmer Gifts for Tech Job-Hunters
On the hunt for gifts for computer science majors about to graduate? Or gifts for coders who just changed careers from another industry? These gifts are specifically designed to help them prep for the job search.
Portfolio Dojo
One of my courses! Portfolio Dojo is an online course focused on helping total beginners build a portfolio from start to finish.
The course is geared toward those who want to work in tech—but don't worry, there's no need to be an expert developer/programmer/designer just yet. I'll teach you/your giftee EXACTLY what you need to know so you can make a portfolio that showcases your skills, impresses recruiters and clients, and ultimately gets results!
💰 $97
🛒 See more about the course here and email support@learntocodewith.me to arrange gifting the course.
The 5-Day LinkedIn Crash Course
If you're looking for a new career in tech, or a new career in any field for that matter, you need to be on LinkedIn and your profile needs to make you look like an A-player. This crash course has been designed so that your giftee can fly through it in 5 days or less.
💰 $7
🛒 Learn more about the crash course here and email support@learntocodewith.me to arrange gifting the course.
Interview Cake
Technical interviews are a different beast than interviews are with many other jobs, because they involve doing timed challenges. Interview Cake breaks down the process of tech interviews, going over dozens of common questions and teaching you strategies for finding the answers. Confidence for interviews is one of the best coding gifts you can give!
💰 $149 for the 3 weeks "Crunch Time" access or $249 for 3 months access to the full course
🛒 Buy it on Interview Cake — or, read my full review here
AlgoExpert Course
Another resource to help job-hunters prepare for tech interviews. AlgoExpert comes with 100 coding interview questions to practice with in nine different programming languages.
🛒 Buy it on AlgoExpert for $99 but get 10% off with coupon code ltcwm
[Book] No Degree, No Problem
Do you know a self-teaching coder who's discouraged that they don't have a formal education? The good news is, you don't have to have a college degree to succeed in the tech world. This book, which comes in Kindle or audiobook form, is a guide to landing a Ruby on Rails job.
[Book] Swipe to Unlock: The Primer on Technology and Business Strategy
Technology and business are closely linked in many roles. This book will make a great gift for tech guys and girls pursuing any kind of management, consulting, or strategy role in tech.
☝️ Back to top
🧒🏽 Tech/Coding Gifts for Kids, Tweens, and Teens
Kids are never too young to start learning new things and exploring their passions. Since the new generation is growing up side-by-side with tech, chances are they'll take to these coding-for-kids gifts like a duck to water.
👶 Young children
INFANT ONESIES (FOR AGES 0-2)
FISHER-PRICE CODE 'N LEARN KINDERBOT (FOR AGES 3-6)
This interactive robot helps preschoolers get ready for kindergarten. They can input codes to map a path for the Kinderbot and learn colors, numbers, and phrases. Challenges increase in difficulty as kids solve previous ones, and the robot pal offers positive feedback along the way.
ECHO DOT KIDS EDITION WITH ECHO GLOW (FOR AGES 3+)
This kids version of the Echo Dot lets them play music, stories, and educational skills while emitting bold colors to excite them or soft colors to soothe. Comes in owl or dragon designs.
LEARNING RESOURCES CODE & GO ROBOT MOUSE
Kids will learn to program this remote-control mouse to reach the destination on cards they draw from a deck. They'll learn sequencing, logic, and more.
BOTLEY THE CODING ROBOT ACTIVITY SET (FOR AGES 5-8)
One more robot-style STEM toy! Kids can learn to code with Botley, whose features can scale as their skills do. They can program a path for him, use coding cards, and build obstacle courses for him to navigate. These robots are fantastic gifts for computer geeks in the making.
OSMO CODING STARTER KIT FOR IPAD (FOR AGES 5-10+)
31 coding blocks connect with an iPad to determine a character's journey on the screen. Teaches computational thinking and encourages creativity. 3 hands-on learning games.
[BOOK] HOW TO CODE A SANDCASTLE
This fun story introduces little ones to coding concepts in an accessible way. They'll learn about breaking big problems down into little steps, being specific with instructions, using sequences and loops, and more! (For ages 4-8)
[BOOK] MY FIRST CODING BOOK
Another fantastic coding-for-kids gift book filled with puzzles, mazes, and games that introduce crucial coding concepts and teach logic and critical thinking. (For ages 5-7)
👧 Older children
AMAZON FIRE HD 8 TABLET (VARIOUS AGES)
This tablet is a great starter for kids, due to the simple yet robust parental controls. Create a profile for each child, set time limits, and allow age-appropriate access to games, books, and apps with the included Amazon FreeTime.
KANO COMPUTER KIT – A COMPUTER ANYONE CAN MAKE (AGES 6+)
Kids can build their own computers and use them with this kit! It comes with a Raspberry Pi 3, step-by-step instructions, a wireless keyboard with trackpad, a unique Kano operating system, programmable lights, and 100+ apps and coding challenges. The Raspberry Pi computer plugs into any HDMI screen (HDMI cable is provided, screen is not).
KANO HARRY POTTER CODING KIT
This DIY tech gift kit will let kids build Bluetooth coding wands, code them with creative challenges, and make magic with a wave and flick.
CODEVERSE MEMBERSHIP (FOR AGES 6+)
Codeverse is a creativity platform for children ages 6+. Codeverse Studio is an interactive coding platform with a real programming language and all the tools kids need to build real apps and games. Membership includes virtual classes, live streams, and global coding events.
UBTECH MYTHICAL SERIES: UNICORNBOT KIT-APP-ENABLED BUILDING & CODING STEM LEARNING KIT
What could be better than building a robot unicorn? It comes with 440 snap-together parts, several motors, a control box, a Blockly coding system that lets kids program with colors, and (of course) a light-up horn.
ULTIMATE CODING AND CIRCUIT KIT FOR KIDS
Kids will be able to start experimenting with code and simple electronics with this kit. They can pair the experience with online videos and lessons, get started with pre-written code and challenges, then strike out on their own to tweak things on their own.
[BOOK] CODE YOUR OWN GAMES!: 20 GAMES TO CREATE WITH SCRATCH
This book teaches kids key concepts they need to build their own computer games with MIT's free software Scratch. It guides them through the steps with illustrated instructions so they can make 20 popular games like Snake. (For ages 6 to 11)
[BOOK] GIRLS WHO CODE: LEARN TO CODE AND CHANGE THE WORLD
For the tech girls in your life! They'll get inspired with real-life stories of women who work at places like NASA, then learn coding principles in an accessible way that will get them excited to create their own apps, games, and more. (For ages 10+)
[BOOK] CODING FOR KIDS: PYTHON: LEARN TO CODE WITH 50 AWESOME GAMES AND ACTIVITIES
From the basic building blocks of programming to creating your very own games, this book teaches essential Python skills with 50 fun and engaging activities. It's filled with interactive lessons that offer step-by-step guidance to make computer programming entertaining to future coders! (For ages 10+)
Start coding now
Stop waiting and start learning! Get my 10 tips on teaching yourself how to code.
🧑 Teens
If you want coding gifts for seniors in high school or younger teens and tweens, check out this selection.
THINKFUN HACKER CYBERSECURITY CODING GAME
A coding board game that comes with 120 challenges of increasing difficulty, from beginner to expert. Players can play the role of a coder, hacker, and security engineer. Teaches kids and teens how to prevent hacking/security breaches.
JuiceMind Smart Doorbell Coding Kit
Teens will learn the fundamentals of Python with interactive tutorials and apply their knowledge towards building a smart doorbell. Once they finish building the smart doorbell, they can stick it on your door and it'll text people in your household when someone rings the doorbell. Coding gifts that are fun and useful!
[Book] Code for Teens: The Awesome Beginner's Guide to Programming
Perfect intro book for teens looking to get into programming, specifically JavaScript. Includes over one hundred illustrations, engaging text, and lighthearted humor.
Smart House IoT Starter Kit
This starter kit for learning electronics, programming, IoT, and home automation is based on the Arduino mega2560 (a microcontroller board). Teens will learn how to assemble, code, program, and automate each home feature and device with easy to follow step-by-step tutorials.
Creation Crate STEM Coding Kit
A one-project kit that builds a mood lamp which will change colors in the dark using C++ and Arduino, circuitry, and electronics.
☝️ Back to top
👕 Tech-Themed Gifts for Coders: Apparel, Decor, etc.
The gifts for tech lovers in this section are designed to help them express themselves!
If you're looking for tech gifts for dad or gifts for a nerdy husband 🤓, grab one of the techy T-shirts or ties. Tech gifts for mom could be fun earrings or coasters.
Circuit Board Cufflinks
These cufflinks are made from an Intel ATX motherboard, making them perfect tech gifts for dad to make a fashion statement at the company holiday party.
Ties
Even for a programmer who chafes at wearing ties, these compliment-earning designs will make it a little more bearable.
Circuit Board Drop Earrings
This set of blue motherboard-themed earrings makes a great STEM Christmas gift for women in tech—mixing unique and fashionable with just the right touch of nerdy. Great tech gifts for mom if she works in tech!
"Talk Nerdy to Me" Mug
🛒 Buy it on Etsy for $15.40
Maybe your eyes glaze over a little when your smart sweetheart is explaining how they spent hours debugging code or what specs they want on their next computer…but at least they look cute when they're so passionate!
Programming Stickers
If you know multiple techies, you can get little STEM gifts for them all at once! These packs come with 50 stickers to decorate cars, laptops, guitars, luggage, and more, and make great nerdy stocking stuffers.
T-shirts
A lot of tech workplaces have relaxed dress codes, so these T-shirt gifts for coders will have them looking good on casual Friday (and casual Thursday, etc).
Socks
We hate getting socks as kids and love them as adults! These gifts for computer programmers will keep their feet warm while they're typing away.
getDigital Binary Wrist Watch for Programmers
Once your brain is trained in the language of computers, it's fun to use it in everyday life—like by telling time in binary!
Floppy disk coasters
Protects desks from beverage condensation and reminds techies of their roots.
Programmer Mugs (all via Amazon)
"Programmer" sweatshirt
Simple, comfy sweater that reads "Programmer." It's printed on soft, high-quality fabric and comes in a variety of colors. It's unisex, so you can get matching tech gifts for dad, mom, and other geeky loved ones in one fell swoop!
Programming prints
Set of 8 programming prints with a sense of humor. For example "Eat, Sleep, Code, Repeat" and "Give me a <br>"
'Fixer of Everything' Novelty Wooden Desk Warning Sign
These retro gold desk plaques make funny gifts for software engineers or IT employees!
☝️ Back to top
💰Tech Gifts by Price
On a budget? All the products in this coder gift guide are organized according to approximate price below (highest to lowest). Please note though that prices may change, so these groupings are just approximations.
Splash-out Gifts (approximately $100+)
Do you want to spoil your loved ones with bigger gifts for coders? Here are some of the premium options on our list!
Bigger Gifts (approximately $50-100)
These coding gifts are also great to spoil the techies in your life without going over $100.
Medium-sized Gifts (approximately $20-50)
The gifts in this section are great for Secret Santa exchanges, techy brothers and sisters, kids in your life, etc.
Books:
Budget Gifts (approximately $20 or less)
These cheap tech gifts make perfect nerdy stocking stuffers! You can also keep extras on hand for gifts for techy coworkers, acquaintances, etc.
Books:
Whew—it's been a journey, but you've reached the end! Which coding gifts are you going to buy this year?
If anything on the list jumped out at you, there's no shame in gifting yourself a course or gadget either!
I'm wishing you and yours a happy holiday, birthday, or "just because" season of gifting. 🎉
Note: This article contains Amazon affiliate links. As an Amazon Associate, I earn from qualifying purchases.