A side gig won't just help pay the bills: it could lead to greater freedom, flexibility, financial security, and work/life balance. Plus, you get to expand your professional horizons and potentially work on something you love while you're at it!
For those looking to transition into tech specifically, side gigs can even help lay the foundation for a future career. Even if you're brand-new to tech or are even unsure if a tech job is really right for you, they're a chance to dip your toe in the water. Since the "side" in "side gigs" means you do it alongside other full-time life activities like work or school, you won't have to quit your day job to get started.
There are a ton of advantages to getting a tech side gig—so let's dive in to see just how they work, with real-world examples from those who have done it before. Here are eight ways side gigs can change your life, boost your career, and help you find personal and professional fulfillment.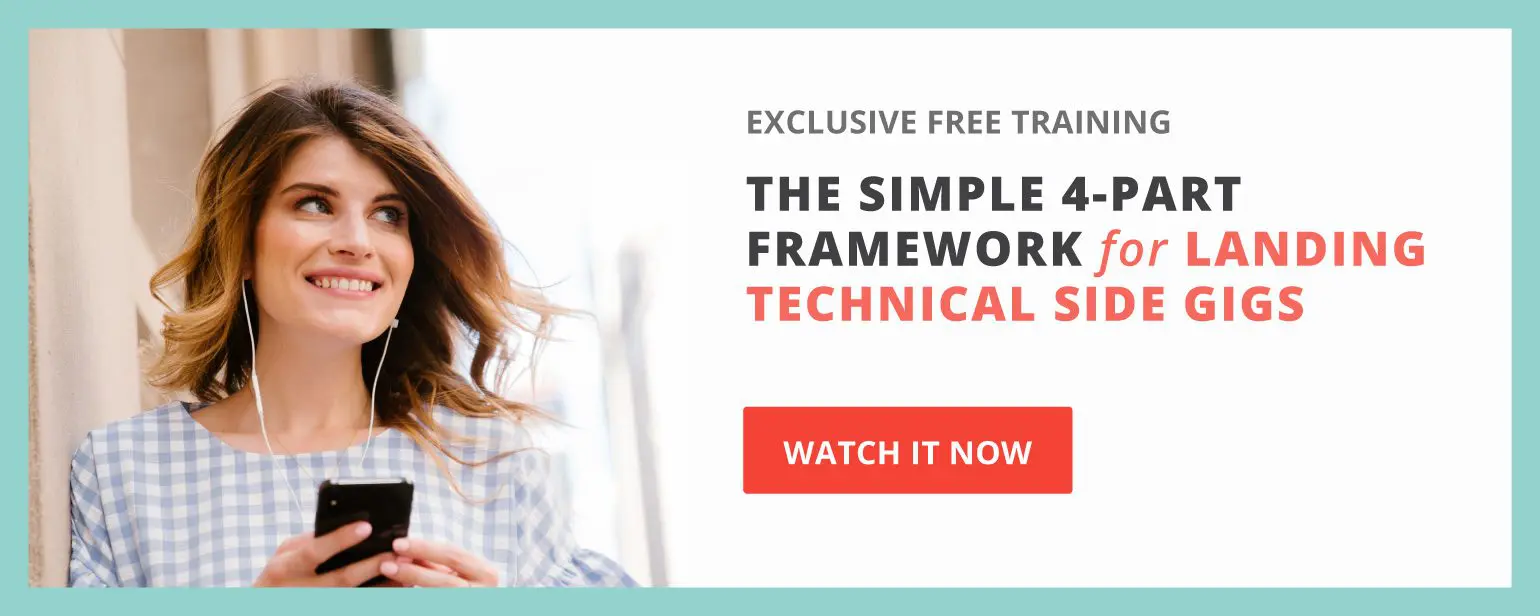 1. A side gig can lead to extra money every single month
Who'd say no to extra money in their budget, right? This is one of the most common reasons to start any type of side hustle, technical or not. Side income allows you to ramp up your earnings so you can pay off bills like student loans or mortgages, save up for future goals like travel, or sock away extra cash in savings or investments.
With technical gigs, this money can start as a little spare cash every month, and accelerate to truly life-changing amounts.
For example, Joe Previte was able to make $5,000 in his first year of learning to code. Now, he works as a full-time front-end developer.
When Kyle Prinsloo started freelancing, he was just looking for some side cash. He didn't know it would turn into a full-time income. But after two years, his freelancing income was matching his full-time salary.
Ryan Robinson started a blog that earns over $327,000 annually, also on the side. Now, it's his full-time business.
And as a final example of tech's extreme earning potential: the flash-game app Flappy Bird was generating revenues of about $50,000 per day at its peak.
Of course, it's important to start with realistic expectations; it does take time and effort to ramp up your skills and earnings. You probably won't earn thousands of dollars a day right away with your side gig, but the potential to earn big is out there. And small amounts can be just as satisfying. Once you earn your first $100 on the side, you'll be hooked!
2. A side gig will advance your tech skills (faster than an online course)
We've all had those days (or weeks and months) of waning motivation while learning a new skill. After all, no one is relying on you to watch programming course videos and do your homework, so it's easy to decide you'll just put it off for another day.
When you have a client depending on you to get a job done, it's different. You have a reason to sit down at your computer and buckle down. It lights a fire under you to level up your skills and learn on the go to meet deadlines.
Beyond motivation, you also get the chance to apply your skills in a different way. While courses and tutorials are great, there is a certain level of problem-solving you get when you're actually working on a real-life project that just doesn't organically happen when you're taking a course or following a tutorial.
Ultimately, the best way to truly learn is by doing. As Ashu Desai noted on a previous episode of the podcast, hands-on learning is more valuable than theory and will enable you to show real examples of what you can do.
Another podcast guest showed us how learning-by-doing can launch you in ways you never expected. Tommy Griffith started learning SEO in college to market an ebook. The skills he gained through that side hustle led to him landing full-time jobs managing SEO at PayPal and Airbnb. Now, he runs his own digital marketing training company, ClickMinded. If he had just watched videos on SEO without putting it into practice, who knows if the same future would have unfolded?
3. A side gig lets you work on your schedule (aka freedom!)
Most side gigs have flexibility when it comes to hours and location—so you can work it around your life, instead of the other way around.
While you might still be beholden to other people's schedules in different areas of your life like full-time work or school or parenting, a side gig can fit in the nooks and crannies of your day. Take Sarah Greer, a mom of 4 who homeschools her children during the day and freelances at night. Sarah was a guest on the LTCWM podcast, where she explained how learning how to code opened her life to new possibilities and gave her the freedom to work when she wants, and where she wants.
It gets really exciting when you realize the future potential of this flexibility. Often, people start out freelancing as a side gig and then decide to take the full-time plunge once they've built up a good client base and reputation. If your side gig is something you want to scale, it can turn into being your own boss.
For example, Erin Flynn is a web strategist, designer, and developer who's been making websites since 1999. Since she runs her own business, she's in charge of her time, so she gets to decide not to work nights or weekends, and takes every other Friday off. So far in 2019 alone, she's taken 62 vacation days. Now that's freedom!
4. A side gig helps you learn what "real world" work you enjoy
There can be a wide gulf between theory and practice, which is why all too often, people spend years studying for a career that they end up disliking once they're in the workforce.
Side gigs let you take a shortcut through this discovery process. You get to start working on small projects while you're still in the learning phase and get a sense of whether you'd like to go further down that career path, or pivot to something different. Data analysis or web dev? Mobile development or cybersecurity? Test the waters with gigs before you fully commit.
Doing things this way can even reveal what you're passionate about. I actually found this out firsthand! A lot of my early projects were related to eCommerce. But as it turned out, I was a lot more passionate about online education and EdTech… which I only figured out via side gigs, like helping create curriculum at Flatiron School. These smaller experiences awakened my love for accessible online learning, made me better at what I do on Learn to Code With Me, and even took me to a full-time job at Teachable, an EdTech startup in NYC.
A side gig can do the same for you. Figure out what you find fulfilling and use that as your launchpad for a future you love.
Get started by downloading my free guide to 28 different tech side gig ideas.
5. A side gig helps you gain experience you can be proud of
Learning tech skills is wonderful and powerful, but it can be hard to get those dream jobs in tech when the "experience" section of your resume is sparse.
Side gigs are a perfect way to bridge this gap. The process of getting smaller freelance projects from clients is usually a lot less intense than applying for a job at a tech company, so they're more attainable for someone who's new to tech. Yet the projects and experience you can gain through a side gig can still boost your resume and portfolio to make you more attractive to bigger companies. Further along in the process, you can mention in interviews how you solved a certain problem or improved a client's metrics.
Going back to when I was applying to Teachable, my own side hustles helped seal the deal. The Learn to Code With Me blog and podcast started out as side projects, and gave me concrete evidence of my skills and knowledge to show and reference during the application and interview process. Companies want to see these real examples of what you can do!
If you're a would-be career changer, working a tech side gig while working your day job in another field can give you the experience you need to officially switch into tech.
6. A side gig helps you network without actually having to network
Networking for its own sake can feel a little awkward, like you're forcing introductions and connections. It feels much more natural to meet people through working together or pursuing common goals.
Side gigs are one great way to create authentic, meaningful connections with others in the tech industry and build word-of-mouth referrals for future gigs or jobs. You can build a network of clients, people working on the same project/team for a gig, or even fellow tech learners and gig-seekers who could encourage you and pass opportunities your way.
When I interviewed Jesse Moore on the podcast, he talked about his experience with the connection between networking and side gigs. He befriended a full-stack software engineer who volunteered at the same youth program as him. Later on, his new friend offered him a tech internship. Jesse had various jobs and projects along the way, but eventually, that internship turned into a full-time job opportunity.
Astrid Countee, who I interviewed here, overcame her discomfort with networking by volunteering and attending meetups, which helped her meet new people and build her confidence. One of her biggest episode takeaways: be somebody that people know. That way, they'll think of you when a relevant opportunity comes up!
Writer, coach, and trainer for budding freelancers Joyce Akiko has advice for how to make the most of your side gig networking: don't be afraid to ask for referrals. Get testimonials from clients and ask for introductions to people who need your services. Follow up every few months to keep your client relationships strong.
7. A side gig can boost your confidence in yourself and your abilities
When you're starting out on your tech journey, there are so many unknowns. Using your skills on a small scale via a side gig helps you dispel those doubts and turn "I don't know… can I do this?" into "I can do it because I've done it before!"
It's so much easier to start small and take steps, rather than jumping into something big like a full-time job. That way, you can ease into tech and not feel rushed…like you have to know everything now. You can slowly build up your skills without pressure or feeling overwhelmed.
Ryan Robinson (the six-figure blogger I mentioned in #1) worked full-time while building his blogging business on the side for five years. Now, running ryrob.com is his full-time job, but it took time to get there. Starting slowly on the side enabled him to learn, grow, and gain the confidence to strike out on his own.
8. A side gig can turn into a new (and fun) hobby
Even if you don't plan on turning it into a full-time job, side hustles can be a wonderful addition to your life. You can do something that serves as a creative outlet, like building apps. You can do something that brings you fulfillment, like making beautiful websites for nonprofits whose mission you support. You can make your life easier by using tech to automate busywork at your day job. The options are endless!
"Side gigs take time and mental energy, but they can add a lot of value to your life if they're a true passion," says Clément Mihailescu, podcast guest from season 6, who went from newbie coder to Google software engineer in just 6 months. Doing something productive with your free time can be good for your mental health and happiness, whether you're working on projects for clients or for yourself.
---
Given that side gigs have so many advantages, I'm a big advocate for getting one as soon as possible.
… Even if you feel like you're "not ready" to get paid for your tech skills yet.
… Even if you still have a long list of courses you want to take.
… Even if you feel intimidated.
Because the truth is, you're never going to feel ready. If you waited to feel ready, you'd just keep putting it off—because no one ever feels fully ready before doing something new! And you have absolutely nothing to lose by trying.
So what are you waiting for? Take the next step in your side gig journey by registering for my FREE training, which covers my proven 4-step framework for landing technical side gigs. Register for the free training now!